Creating a 3D Printed Myoelectric Prosthetic Hand suitable for India
Posted on: 28 March 2016
By:

ashok
Earlier this evening, I gave a talk at Jaipur on The Challenge of Creating a 3D Printed Myoelectric Prosthetic Hand that is suitable for India.
The Invitation Card
You are cordially invited to an interactive talk by Ashok Mathur on Plan to Fail: The Challenge of Creating a 3D Printed Myoelectric Prosthetic Hand that is suitable for India.
The session shares the story and the process of how an idea, a desire to do good and a challenge transformed into creation of a team, acquiring of skills, search for solutions and finally the successful creation of a customisable 3D printed myoelectric (sensors picking information from muscle movement) prosthetic hand that is suitable for at the shoulder' amputees (thresher accidents are the main reasons for hand amputations in India). At the same time the production cost has been brought down from 3.75 lac to 10,000 rupees.
This session will be useful to businessmen, entrepreneurs, managers, doctors, designers, scientists, engineers, IT people, non profit workers, basically anyone who is planning on creating anything (and we hope that is everyone).
DATE: 28th March 2016 TIME: 6 PM- 7.30 PM
PLACE: The Floating Leaf Café - Surya Mahal Tower, K 44, Income Tax Colony, Lal Bahadur Nagar, Near Talwalkars Gym, Tonk Road, Jaipur, Rajasthan 302017
RSVP: Rakshat Hooja
Organization: Jaipur Community College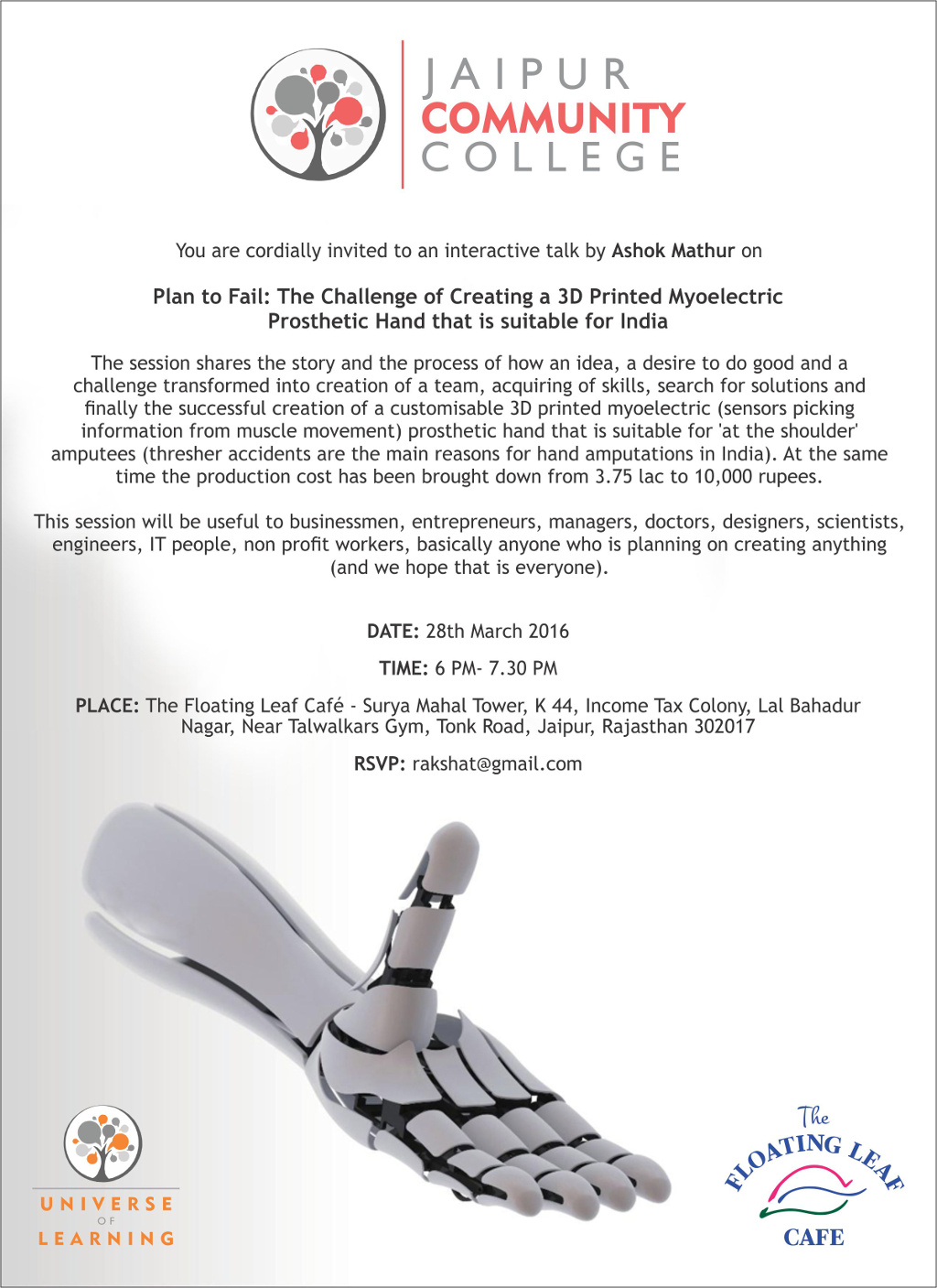 My Talk
I talked about the The Myoelectric Arm Project at Vigyan Ashram, Pune that aims to set up capabilities in India such that myoelectric hands in the price band of ₹10,000 to ₹30,000 are available for fitting to those in need. I had the help of a projector to show some slides. I was also able to demonstrate a 3D printed myoelectric prosthetic hand.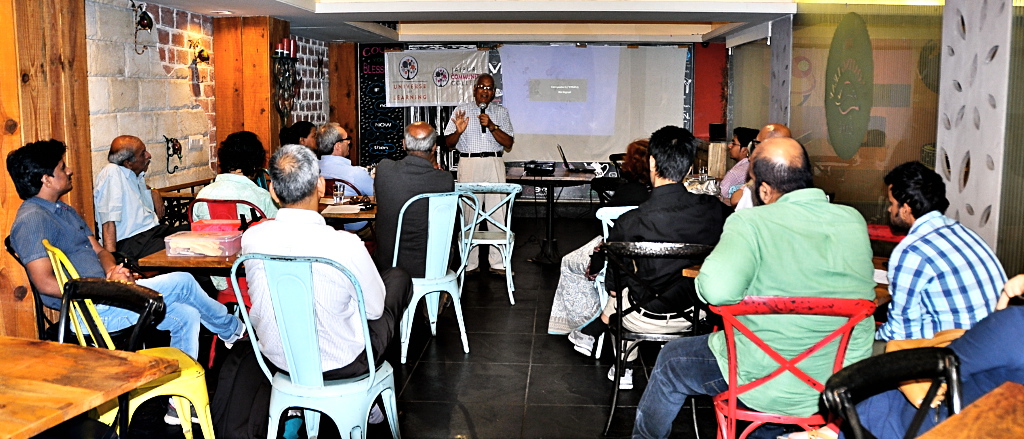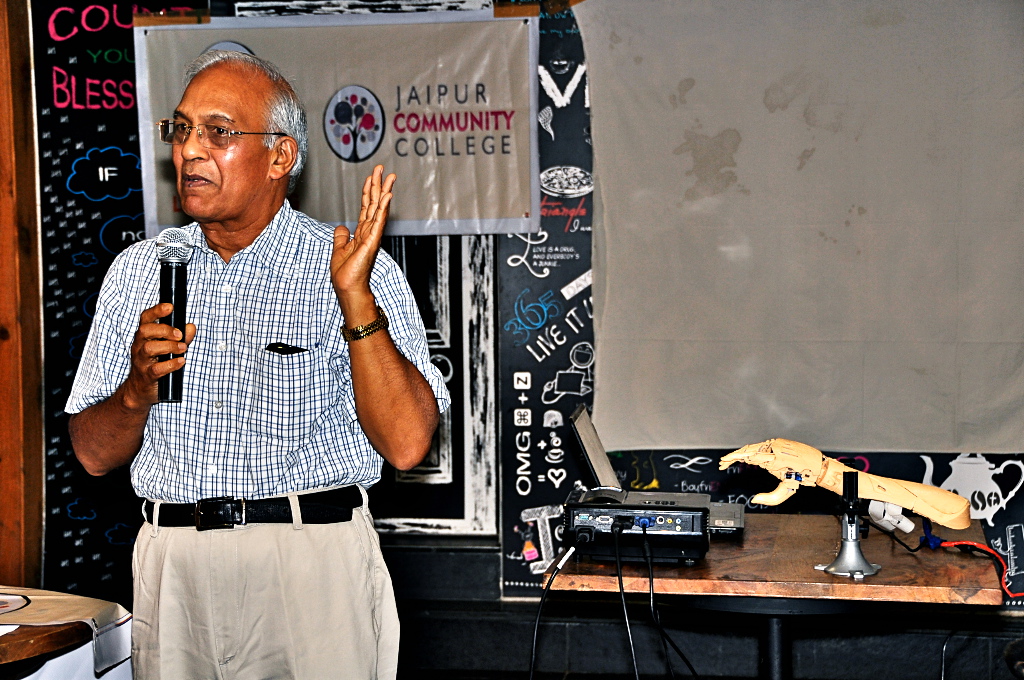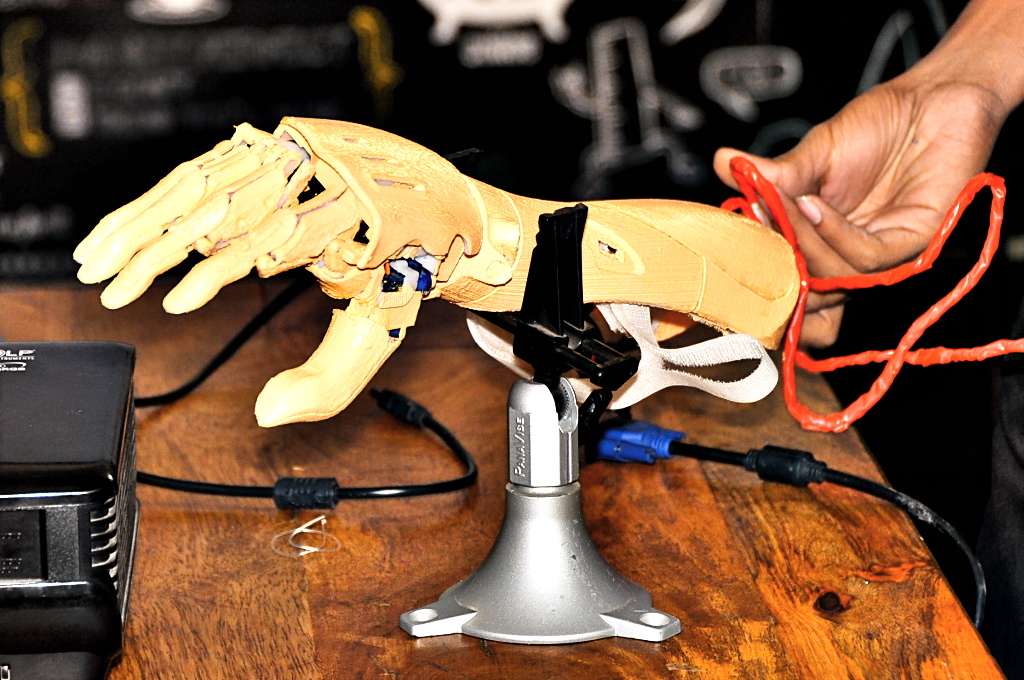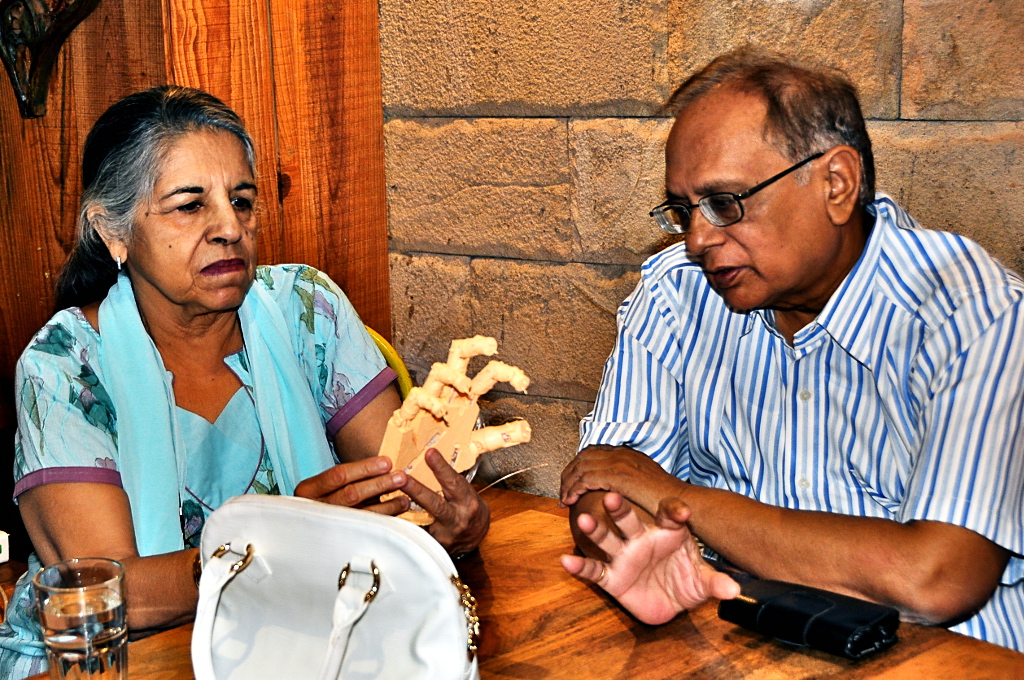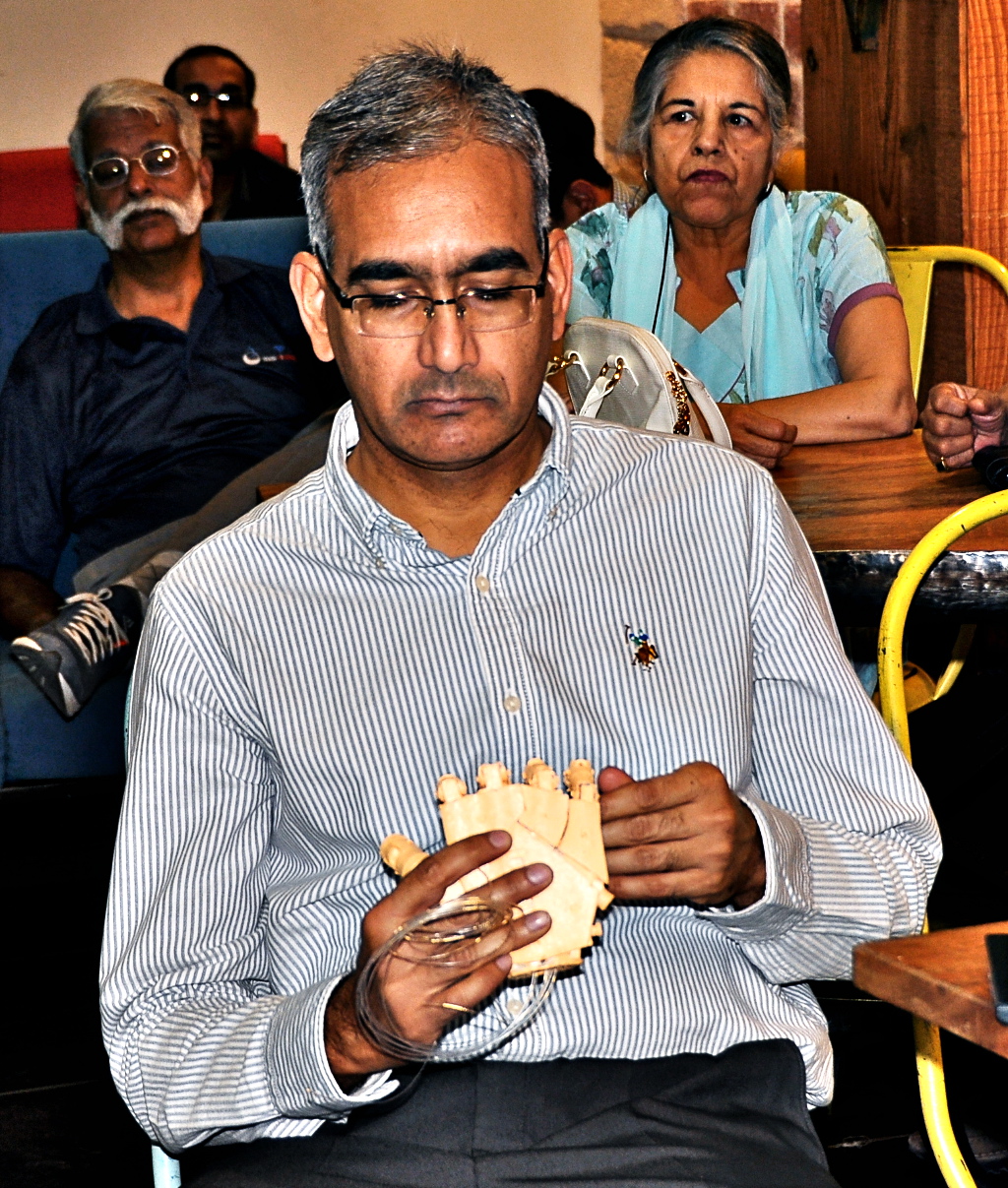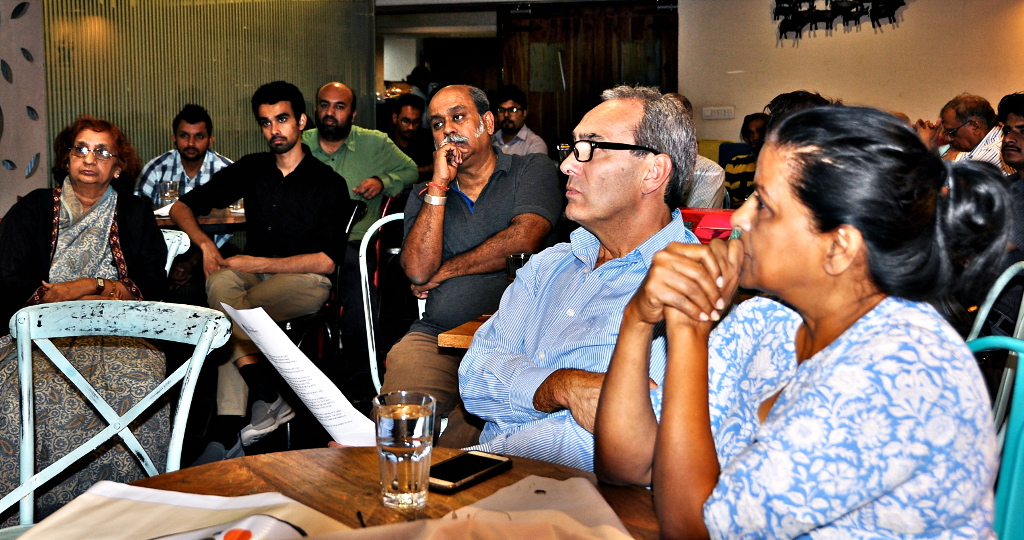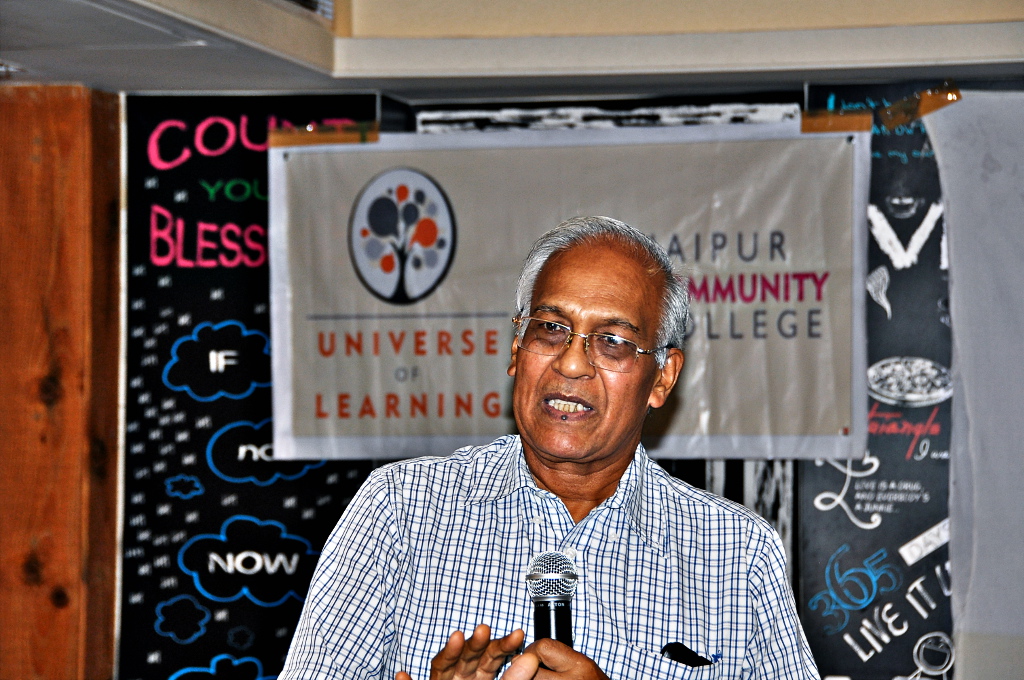 Feedback
Roughly a dozen people attended my talk. Many of them enjoyed playing with the 3D printed myoelectric prosthetic hand. A few were kind enough to leave positive feedback:
Ashok's talk this evening was very interesting but the overall idea is still a work in progress. Audience can appreciate the effort and industry in reducing the cost of the hand but I feel an end product would have had a different impact. But overall it was absorbing — Subhash Mathur
Audience feedback was very positive. Also Ashok was able to draw a decent crowd despite the early starting time on a weekday an multiple competing but higher profile events — Rakshat Hooja
The overall impact was very good and brought out the hard work put in in an unusual field The venue was quite different from IGPRS but very vibrant and the talk and the topic fitted well with the concept of universe of learning and community college. — Meenakshi Hooja
Thank you so much for the most intellectually fascination evening. What a man!! What humility. — Rashmi Dickinson
Hello...that was an extremely interesting and informative evening. ..The Punch line PLAN TO FAIL in itself motivational. .Ambar uncle was very impressed with Mathur saab...incredible knowledge. ...will power....vision...and teaching skills! — Kum Kum Sen
Fascinating talk. What an amazing man. — Aishwarya Singh
Thanks
I want to thank everyone who took time out from their busy schedules to attend the talk. Thanks are due to Jaipur Community College who incorporated my talk in their Universe of Learning series. Thanks are also due to The Floating Leaf Café who provided the venue and the facilities needed to hold a successful talk. Finally, thanks are due to my family, especially my nephew, Rakshat Hooja, without whose drive and initiative nothing would have been possible.