Pune startup Dee Dee Labs to develop low-cost prosthetic hand
Posted on: 21 May 2017
By:

ashok
I had the great privilege of meeting the team at Dee Dee Labs earlier this year in Mumbai. They are working on a low-cost prosthetic arm in a start-up incubator run by Venture Centre at CSIR-National Chemical Laboratory's NCL Innovation Park, Pune.
Dee Dee Labs has an interesting prosthetic arm design and they are doing good work. Today's Indian Express has a great article on their journey so far. Congratulations to everyone at Dee Dee Labs. Keep up the great work!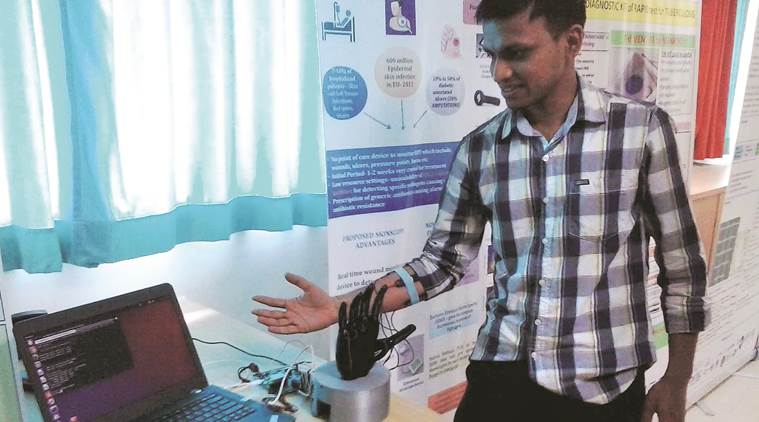 Indian Express > Cities > Pune

Pune startup to develop low-cost prosthetic hand
For the last one-and-a-half years, this four-member team at Dee Dee Labs, a Pune-based startup, has been working on developing myoelectric arm.
Written by ANJALI MARAR | Pune | Published: May 21, 2017
http://indianexpress.com/article/cities/pune/pune-city-startup-to-develo...

A new hope seems to be emerging for the amputees as a group of city engineers are working towards developing low-cost prosthetic hand that can be fitted without performing any surgery.

For the last one-and-a-half years, this four-member team at Dee Dee Labs, a Pune-based startup, has been working on developing myoelectric arm. Their idea is to make use of the body's naturally generated electric signals of the muscles and process it in order to perform the desired action by the hand. While the product is mainly being developed to perform hand actions, namely contraction and relaxation, pinching and pointing at objects, engineers are also working on adding more gestures.

The lab is operating out of Venture Centre, run under the aegis of CSIR-National Chemical Laboratory (NCL), where it was incubated as a company a year ago.

What is interesting to know is that, even if the person is an amputee, the signals from the brain reach the last muscle present at the tip of the arm. This is effectively what these experts have managed to harness by decoding the electrical activity of the hand muscles, particularly obtained during its cycle between contraction and relaxation. The prosthetic arm comprises numerous electrical probes that have specilised Surface Electro MyoGraphy (EMG) sensors.

Explaining the working of the arm, the lab's co-founder, Pratik Bhalerao, said, "Whenever the tip of the residual limb of the amputee generates these signals, the onboard sensors detect them first. This information is then relayed to the controller where it gets converted to commands which aid in carrying out hand gestures, like pointing, pinching, contracting and relaxing the fists, etc."

Prosthetic arms have been available for about Rs 35-40 lakh. This is where the experts hope to act as game-changers as they are aiming to supply their product at cost-effective prices. "Without using any surgical implant, our product will be available for a cost in the range of Rs 1-1.5 lakh," said Bhalerao. Alongside designing more gestures, Dee Dee lab members also aim at being a part of the Accessible India Campaign launched by Prime Minister Narendra Modi in 2015. "We need to undertake patient trials and are also in talks with government institutions working for persons with disabilities and artificial limb," he said.

Copyright © 2017 The Indian Express [P] Ltd. All Rights Reserved.